DPRK Today
Handicapped Girl Soloist (1)
2021-10-25
Handicapped Girl Soloist (1)
A girl soloist gave a deep impression to the audience with the good presentation of the popular songs such as "Party, under your benefit" and "Voice of my heart" with a rich volume and clear and beautiful tone.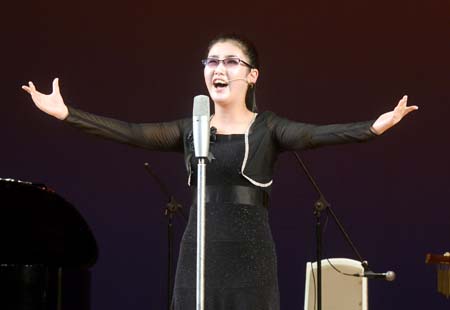 Her name was Pak Jin Ri, a blind.
When she was born into a military officer's family, the parents loved her as the apple of their eye.
However, as the days went by, their hope unexpectedly turned into despair. They gradually ascertained that their daughter was blind.
At first when the child was apt to fall while taking a step they thought it caused from weak legs for she was still a baby and when she did not discern her parents they thought it still to be acquainted with.
One day they brought her to the hospital with a doubt.
The diagnosis was a thunderbolt from the blue that their daughter was a blind. The parents were struck with awe.
The comforting words of the doctors were useless to them. For all that, the child was all the time smiling an affable smile.
It even more rent the heart of the parents and made them drowned in tears.
Then soon the child grew as blind as a bat.
778 materials are searched
Ri Ho Jun First Olympics Gold medalist of DPRK&nbsp

2021-03-11

Underground Palace in Pyongyang&nbsp

2021-03-11

Declaration Issued Marking the 8th Congress of the Workers' Party of Korea&nbsp

2021-03-10

Taedong Gate&nbsp

2021-03-10

Spring in the Winter&nbsp

2021-03-10

Pride and Worth of Postwomen&nbsp

2021-03-10

Story of &nbsp

2021-03-10

The 30th December&nbsp

2021-03-03

Land Reform in DPRK&nbsp

2021-03-03

Life of Korean Women in Society&nbsp

2021-03-03

Unhasu-brand Cosmetics&nbsp

2021-03-03

Land Prevalent with Affection&nbsp

2021-03-03

Cheers Swept Ba Dinh Square Then After 61 Years&nbsp

2021-03-03

Significant Tree Planting Day&nbsp

2021-03-03

Pyongyang Bell&nbsp

2021-03-02

DPRK Friendship Order and Medal&nbsp

2021-03-01

Events Held Abroad on the Occasion of the 8th Congress of the Workers' Party of Korea&nbsp

2021-03-01

Foreign Organizations State on the Occasion of the 8th Congress of the Workers' Party of Korea&nbsp

2021-03-01

What President "Coveted"&nbsp

2021-03-01

Concern for Women Even in Days of Battle&nbsp

2021-03-01