DPRK Today
Hong Yong Hui, Heroine of Korean Film Flower Girl
2021-11-22
Hong Yong Hui, Heroine of Korean Film Flower Girl
DPRK's People's Actress Hong Yong Hui is well known as the heroine of the feature film the Flower Girl.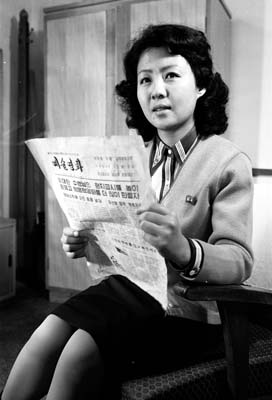 The film was created in 1972. She acted in the film as a heroine in her student days in the Pyongyang University of Dramatic and Cinematic Arts.
The film won the special prize and medal in the 18th International Film Festival, was screened round in many East European countries and very popular among Chinese and Japanese peoples.
A Chinese is said to have taken a job of an ophthalmologist for he was too sympathetic of Sun Hui blinded by the landlord in the film.
After giving a deep impression with an excellent act in the Flower Girl to the audiences at home and abroad, she starred well again the lead in the We Met Again on Mt. Myohyang (1982) and the multi-part feature film The Nation and Destiny (part 19-24).
449materials are searched
Hot Spring-using Undok Complex Built

2022-01-17

Recycling Brisk at Pyongyang Cosmetics Factory

2022-01-17

World and Great man (1)

2022-01-17

Original Viewpoint of Youth

2022-01-12

One and Only Powerful Country of Youth in the World

2022-01-12

"Tokyo-Pyongyang Rainbow Bridge" of Japan

2022-01-12

Make the Factory Loved by People

2022-01-12

First Irion-clad Ship in World

2022-01-10

Amnokgang General Foodstuff Factory Reconstructed

2022-01-10

Famous actor Choe Chang Su

2022-01-10

It Is Necessary to Go Work Site

2022-01-10

For the Development of Animal Husbandry

2022-01-06

Caring for Even Amusement Facility

2022-01-06

Mt. Paektu, Sacred Mountain of Nation

2022-01-06

Small Yet Big Factory

2022-01-06

Finally in the 173rd Try

2022-01-04

Child's Birthday Kept in Memory

2022-01-04

Medical Examination by a Little "Doctor"

2022-01-04

Afforestation and Water Conservancy Works Brisk in Various Parts of Korea

2021-12-29

Asia-Pacific Regional Committee for Peaceful Reunification of Korea Awards Life Membership to Indonesian Figure

2021-12-29