DPRK Today
People Shown in Eyes of Baby
2023-03-03
People Shown in Eyes of Baby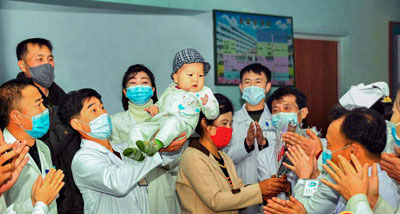 The director of the Tokchon City Hospital is holding a baby in his arms. What are the people shown in the eyes of the baby.
When the child of a few months in critical conditions with serious burns was sent to the hospital, the medical workers felt heartbroken to see it.
At that time the baby was almost hopeless. Soon the consultative meeting of doctors was opened and detailed assignment of treatment was followed.
There was an intensive treatment. A large number of medicines were used for treatment.
The hospital officials, doctors and nurses dedicated their blood and flesh to save the child. Their utmost care led to the recovery of the child of an ordinary coal miner.