Long History, Brilliant Culture
Chongnyu Pavilion of Historic Interest
2023-04-21
Chongnyu Pavilion of Historic Interest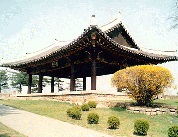 Chongnyu Pavilion was a gatehouse of Jonghae Gate, the west gate of the keep of the Walled City of Pyongyang of Koguryo.
Jonghae Gate was reconstructed in 1716 when the Walled City of Pyongyang was repaired on a large scale during the feudal Joson dynasty.
Jonghae Gate was removed in 1927 and the gatehouse was moved to the present place and called Chongnyu Pavilion named after Chongnyu Cliff.
Chongnyu Pavilion was heavily damaged due to the barbarous bombing by US imperialists during the Fatherland Liberation War (1950-1953). It was restored to the original state in 1959 under the government's policy of preserving culture.
It is a one-story pavilion with three kans (11.08 m) in the front and two kans (6.2 m) in the side. It is a gabled house supported by ten pillars.
It was covered with colorful anvil.
After the liberation of the country President Kim Il Sung, Chairman Kim Jong Il and anti-Japanese heroine Kim Jong Suk visited this place for several times.
Chongryu Pavilion is the cultural recreation centre of the Korean people.