Long History, Brilliant Culture
Korean Folk Dish Sinsollo
2021-01-12
Korean Folk Dish Sinsollo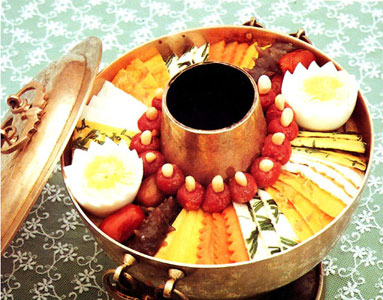 Sinsollo
is originally the name of a food-boiling bowl with a unique structure, which gradually turned to the name of the cuisine cooked from it.
It is composed of a cylinder in the middle for fire, a vessel round it for containing foods and a high foot venting air at the bottom.
It is an excellent piece of the Korean cuisines well-matching the diverse quality foods, a vessel of original style, fine tasty composition of the cuisine and the diet style of Koreans who love to have a meal sitting together round the table.
All the foodstuffs are put by the colors in the container with a fan-like ribs and the soup of beef and pork over them. Then charcoal fire is put in the cylinder to boil the food adding garlic, black pepper, pine nuts, gingko nuts, jujubes, chest nuts, pear and orange.
The origin of sinsollo is said to have come from the charcoal burner used by a fairy-like old man Jong Hui Ryang. He is said to have lived in countryside on the food boiled in a unique brazier at the end of the 15th century to early 16th century.
712 materials are searched
Internet Paper of Association of Vietnamese Friendship Organisation Puts an Article &nbsp

2022-08-11

A Second and 34 Years&nbsp

2022-08-10

Excellent Answer to "I've No Idea"&nbsp

2022-08-10

Carve the Sun on My Tombstone&nbsp

2022-08-09

"How Does Russian Scout Get Along?"&nbsp

2022-08-09

President Kim Il Sung and Liberation of Korea&nbsp

2022-08-09

Janggo-Percussion Instrument Pertaining to Korean Nation&nbsp

2022-08-09

Enlarged Meeting of Organizing Committee of International Festival in Praise of Great Persons of Mt. Paektu Held&nbsp

2022-08-01

Mausoleum of 25th King of Koryo Discovered&nbsp

2022-08-01

Songi Mushroom and Its Medical Properties&nbsp

2022-08-01

33 Years and 25 school children&nbsp

2022-08-01

Political Committee Meeting Turns to "Meeting of Students'Parents"&nbsp

2022-08-01

A Solid Farmer&nbsp

2022-08-01

The City Site Plan Completely Switched Over &nbsp

2022-08-01

Peerless Great Man Who Remains Long in Hearts of Humankind&nbsp

2022-07-28

Wearing Cotton-padded Shoes in Summer&nbsp

2022-07-28

A Negligible Item is Not Forgotten&nbsp

2022-07-28

"Mystery" Made Clear Decades After&nbsp

2022-07-28

More than 20 Branch Schools for Over 390 Students&nbsp

2022-07-28

One Large Family Overflowing with Affection and Warm Heart (1)&nbsp

2022-07-25