DPRK Today
With Loving Care (1)
2022-04-30
With Loving Care (1)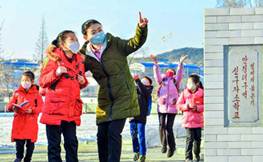 When Pak Hyon Jong, a teacher of the Songuja Primary School in Mangyongdae District, was looking at the children returning home after their school hours, a young girl was wavering before her eyes.
The young girl called Hyon Ye Ji was seven years of age. She could not go school because of physical defect. What her mother said, casting compassionate eyes at her daughter, was impressed on her mind.
"Sight at the children of about the same age as Ye Ji's going to school moved me to tears. But, it could not be helped. Today of the enrollment of students I piggybacked her so that she could see the school."
Ye Ji carried on the mother's back kept her eyes at the school. Hyon Jong had a quaver of conscience as she tried to turn her face away from the young girl.
Hyon Jong could not go to bed for the night.
She got out of bed and told of a story to her mother.
When the mother was told of her determination to piggyback the young girl to school, she said nothing, but told her daughter at the end. "Do as you determined."
662 materials are searched
Composer Ri Myon Sang&nbsp

2022-06-27

Within More Than 110 days&nbsp

2022-06-27

With Loving Care (6)&nbsp

2022-06-27

Acknowledgement of Govind&nbsp

2022-06-27

Nothing to Desire More If People Are Fond of It&nbsp

2022-06-27

Water Clock and Sundial&nbsp

2022-06-27

Story Associated with Kimilsungia Necklace&nbsp

2022-06-27

"I'll Be Your Adjutant"&nbsp

2022-06-22

Kimchi-Pride of Korea&nbsp

2022-06-22

School Running With 30 Extracurricular Groups&nbsp

2022-06-22

Making Better Use of Mountains&nbsp

2022-06-22

Kaesong Namdae Gate&nbsp

2022-06-20

Ten Best Coaches of Democratic People's Republic of Korea (5)&nbsp

2022-06-20

If There Is Anything Demanded by People&nbsp

2022-06-20

For the Sake of A Foreigner&nbsp

2022-06-20

Visiting Pyongyang Orphanage and Pyongyang Baby Home&nbsp

2022-06-16

At Theatres in the West&nbsp

2022-06-16

Movie Actress Kim Jong Hwa&nbsp

2022-06-16

Fairy and Beauty&nbsp

2022-06-16