DPRK Today
Ten Best Coaches of Democratic People's Republic of Korea for 2021(2)
2022-05-06
Ten Best Coaches of Democratic People's Republic of
Korea for 2021(2)
Sa Ok Jin and Han Jong Ae, coaches of the Taekwon-Do Team of the Korean Taekwon-Do Committee, and Ri Chol Ok, a coach of the Taekwon-Do Team of Jagang Province were selected to be among the ten best coaches of the Democratic People's Republic of Korea for 2021.
Sa Ok Jin, Kim Il Sung Youth Honour Prize winner and People's Sportsperson, Han Jong Ae, People's Sportsperson and Ri Chol Ok, Merited Sportsperson, added to the honor of the country at the 14th and 15th Taekwon-Do World Championships and other international games. They devote all their knowledge and energy to training reserve players with a single heart to contribute to the development of the martial arts of the nation.
Their players have proved successful at the 20th and 21st Taekwon-Do World Championships and international games.
They displayed their special ability at the Mangyongdae Prize National Martial Art Championship in celebration of the Day of the Sun and the Jonsung Cup national Taekwon-Do superstar tournament last year to win many gold medal and individual prizes.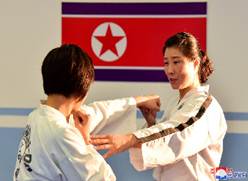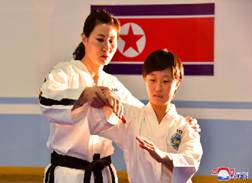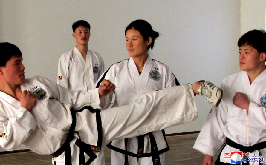 662 materials are searched
Composer Ri Myon Sang&nbsp

2022-06-27

Within More Than 110 days&nbsp

2022-06-27

With Loving Care (6)&nbsp

2022-06-27

Acknowledgement of Govind&nbsp

2022-06-27

Nothing to Desire More If People Are Fond of It&nbsp

2022-06-27

Water Clock and Sundial&nbsp

2022-06-27

Story Associated with Kimilsungia Necklace&nbsp

2022-06-27

"I'll Be Your Adjutant"&nbsp

2022-06-22

Kimchi-Pride of Korea&nbsp

2022-06-22

School Running With 30 Extracurricular Groups&nbsp

2022-06-22

Making Better Use of Mountains&nbsp

2022-06-22

Kaesong Namdae Gate&nbsp

2022-06-20

Ten Best Coaches of Democratic People's Republic of Korea (5)&nbsp

2022-06-20

If There Is Anything Demanded by People&nbsp

2022-06-20

For the Sake of A Foreigner&nbsp

2022-06-20

Visiting Pyongyang Orphanage and Pyongyang Baby Home&nbsp

2022-06-16

At Theatres in the West&nbsp

2022-06-16

Movie Actress Kim Jong Hwa&nbsp

2022-06-16

Fairy and Beauty&nbsp

2022-06-16