DPRK Today
Young People of North Phyongan Province Volunteered to Work at Main Fields of National Economy
2022-12-29
Young People of North Phyongan Province Volunteered to
Work at Main Fields of National Economy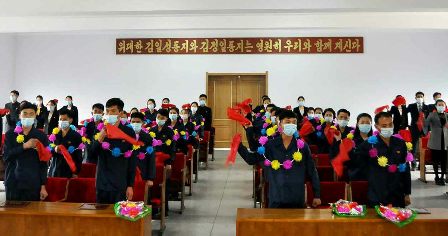 The young people of North Phyongan Province volunteered to work at difficult fields in order to carry out the decision of the 8th Congress of the Workers' Party of Korea(WPK).
More than 70 young people of the province volunteered to work at the main fields of the national economy including coal mine, ore mine, forestry station and farm.
The young people of Sinuiju went to Junghung Farm and other places in Samjiyon City with a determination to bring into full bloom their youthful hope and ideal at the foot of Mt. Paektu, the sacred mountain of revolution.
Many young people of Sonchon, Taekwan, Yomju, Uiju and other counties volunteered to work at farms with the beautiful view of life to leave indelible trace in implementation of the WPK's program of countryside revolution.
The young people of Jongju City, Sakju and Ryongchon Counties also volunteered to work at Kujang Area Coal Mining Complex, Phungnyon Mine, Sinuiju Textile Mill and other places.