Friendship & Solidarity
Turkey-Korea Friendship Association Held the National Meeting on the Occasion of the Day of Shining Star
2022-05-06
Turkey-Korea Friendship Association Held the National
Meeting on the Occasion of the Day of Shining Star
A National meeting was held under the sponsorship of the Turkey-Korea Friendship Association(TKFA) on the occasion of significant Day of Shining Star(February 16).
Present at the meeting held on the spot coupled with the form of video conference were members of the TKFA and youth vanguard organization of the Turkey Fatherland Party.
The executive members of the TKFA took the floor and then the veterans answered the questions given by the young generations.
Written speech was presented to the national meeting in the name of the TKFA.
The national meeting added to the festive mood of the progressives who want to greet the significant holidays of the Korean people as auspicious ones common to mankind.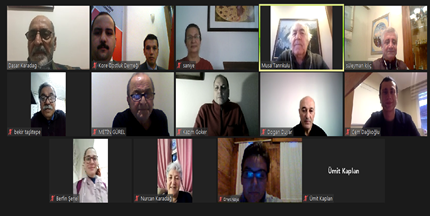 662 materials are searched
Composer Ri Myon Sang&nbsp

2022-06-27

Within More Than 110 days&nbsp

2022-06-27

With Loving Care (6)&nbsp

2022-06-27

Acknowledgement of Govind&nbsp

2022-06-27

Nothing to Desire More If People Are Fond of It&nbsp

2022-06-27

Water Clock and Sundial&nbsp

2022-06-27

Story Associated with Kimilsungia Necklace&nbsp

2022-06-27

"I'll Be Your Adjutant"&nbsp

2022-06-22

Kimchi-Pride of Korea&nbsp

2022-06-22

School Running With 30 Extracurricular Groups&nbsp

2022-06-22

Making Better Use of Mountains&nbsp

2022-06-22

Kaesong Namdae Gate&nbsp

2022-06-20

Ten Best Coaches of Democratic People's Republic of Korea (5)&nbsp

2022-06-20

If There Is Anything Demanded by People&nbsp

2022-06-20

For the Sake of A Foreigner&nbsp

2022-06-20

Visiting Pyongyang Orphanage and Pyongyang Baby Home&nbsp

2022-06-16

At Theatres in the West&nbsp

2022-06-16

Movie Actress Kim Jong Hwa&nbsp

2022-06-16

Fairy and Beauty&nbsp

2022-06-16